†
Hand Road Rash
†
~ § ~
Preparation:
Shave your hand (knuckles especially), and lay down 3 layers of tissue / liquid latex. Allow to dry (preferably not using heat / hair drier, as that yellows the latex). Then pull a hole in the middle, and pull the skin back to the size of hole you want. Work your fingers under the edge to create space for the 'flesh' to underly.
Flesheration:
I used cooked asparagus, pulled into stringy bits, soaked in fake blood then dried (with a hairdryer for time).
Lay that down as a base, then overlay with liquid latex. Find some suitable bone material (telephone cable here), and some small blood vessels (the red and blue wires from inside the phone cable), and lay these while the latex is still sticky, then cover with a layer of latex.
Finishisation: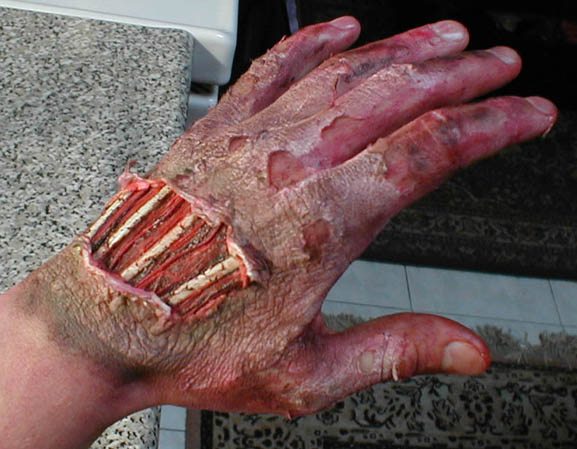 Finish with some more latex on the hand, pulled or rubbed off to look like grazes. Fill the gaps with some red greasepaint, and colour the rest appropriately. Add blood under the edges where they pulled back, then wander around moaning.
Buy
Accessories and Makeup